Nose
The front tip of the board. This can be pointed or rounded.
Tail
The back end of the board. The shape of the tail affects how a board responds. Tail shapes vary from square, pin, squash, swallow, diamond, and so on – each one in turn having its own family of smaller variants.
Deck
The surface of the board that the surfer stands on. Surf wax is applied to this surface.
Bottom
The surface of the board that rests on the water.
Rail
The edges of the board. A rounded rail is called 'soft', while a more squared off rail is called 'hard'.
Fins
Fins create stick and drive on the wave face. They keep the board from sliding sideways on the wave uncontrollably.
Stringer
A thin piece of wood running from nose to tail that increases the strength of the board.
Leash Cup
An indentation in the deck of the board close to the tail that contains a small bar that a leash can be tied around.
Leash
A stretchy cord running from the leash cup to the surfer's ankle. This keeps a surfer from losing his board when he falls off.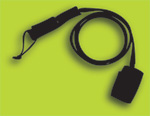 Rocker
This refers to how much curve the bottom of the board has from nose to tail. Increasing the rocker improves maneuverability, but this is at the cost of speed – a steeper curve creates drag.